Interested in this artwork? An art advisor can digitally mount this artwork on your wall as part of our complimentary Art Advisory service. Framing, Delivery & Installation services are available upon request.
Artwork Description
Multitud by Linda Kohen is a thought-provoking artwork that explores the complex dynamics of human interaction and the quest for individuality within a crowd. The composition presents a captivating scene where a multitude of people are depicted, devoid of distinguishing features. In this enigmatic portrayal, the absence of recognizable faces and expressions serves to emphasize the collective nature of the human experience.
The artist intentionally creates a hieratic composition, where each figure blends seamlessly into the next, blurring the boundaries between individuals. This deliberate lack of individual prominence raises a fundamental question: What is our place and purpose among our fellow human beings? Multitud invites viewers to reflect upon their own existence within the vast sea of humanity and ponder the significance of their presence in relation to others.
The absence of facial expressions and individual characteristics also serves to transcend the limitations of personal identity. By stripping away these external markers, the artwork encourages contemplation of our shared humanity, universal experiences, and collective aspirations. It prompts viewers to consider the interconnectivity of individuals and the common threads that bind us together as a society.
Multitud challenges conventional notions of individualism and prompts a deeper examination of our place in the world. It invites viewers to question their own sense of self and explore the complex interplay between personal identity and the collective whole. Through its powerful and evocative composition, the artwork encourages introspection, fostering a sense of empathy and understanding for our fellow human beings.
Linda Kohen's Multitud invites us to transcend the boundaries of our own existence and engage in a contemplative dialogue about our shared purpose and interconnectedness as members of the human race. It serves as a poignant reminder that while we are each unique individuals, we are also part of a greater whole, and our actions and relationships have the power to shape and influence the world around us.
Custom Framing
We will frame your new artwork according to your specifications.
Authentic
Artworks are guaranteed to be unique, signed, and arrive with a certificate of authenticity.
Interested in this artwork?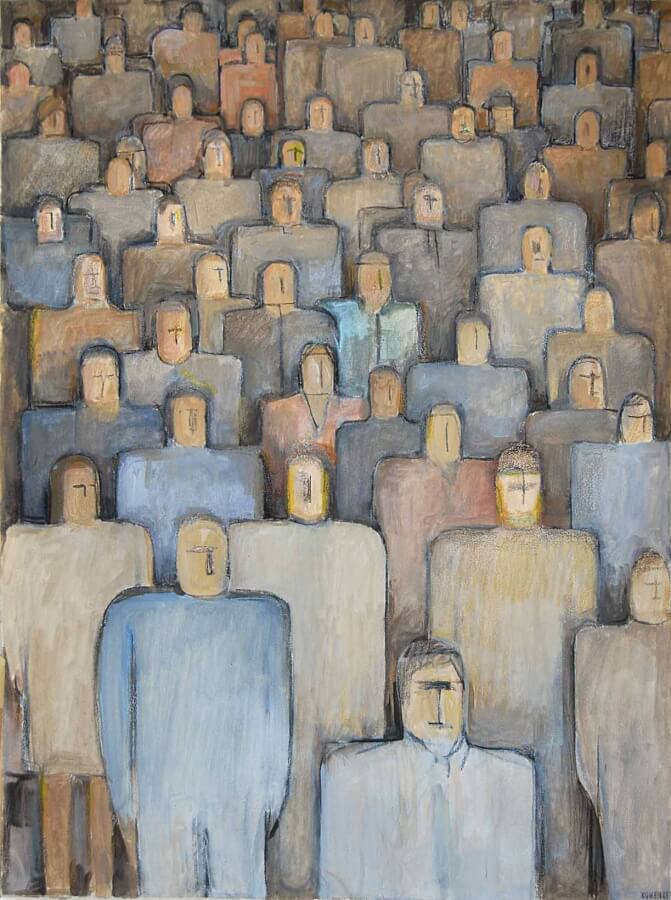 Contact us for pricing by filling out the short contact form. You can also use our complimentary Art Advisory service and find the perfect artwork for your space.
Can't wait? Call us at 305-446-5578